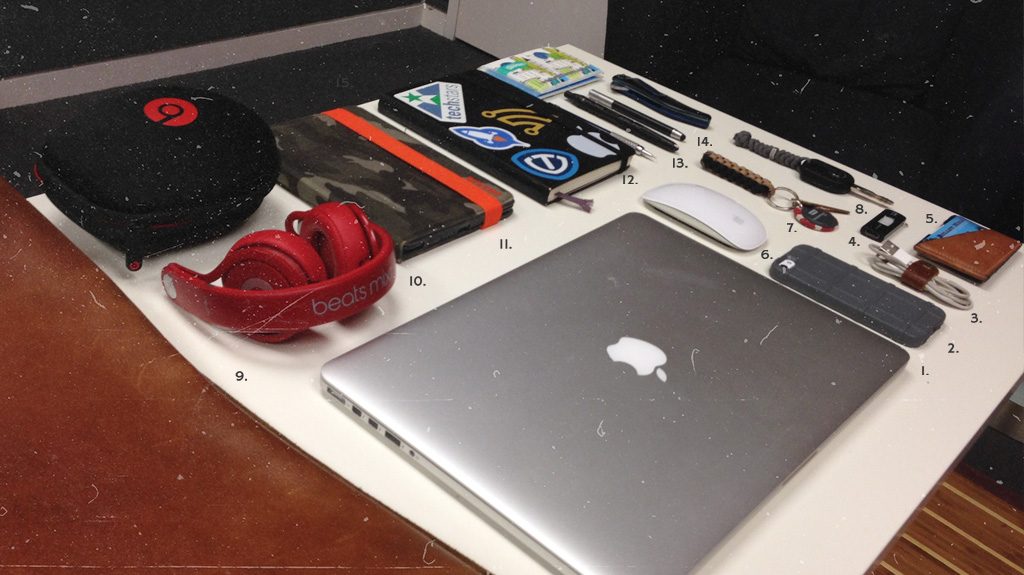 Growing up watching Macgyver it's only natural I became a gadget nerds, so I thought I would take this change for a Designers' EDC. The following Every Day Carry items are indispensable in my day to day whether I'm headed to the office in down town San Antonio or looking for a change of atmosphere at a coffee shop somewhere in the middle.
15″ Macbook Pro
Iphone 5 in a Magpul Field Case
Iphone 5 charging cable with a Millergoods Leather Cable Band
2GB USB flash drive
Handmade Card Case Wallet
Magic Mouse
Office Keys
Car Keys
Tom Hide Messanger Bag
Beat Mixers
Ipad mini in Maki Jacket Camouflage Case
Moleskine Sketchbook
GraphGear 500 Draftsman Pencil, Gerber Tactical Pen, Wacom Bamboo Stylus
CRKT Summa Pocket Knife
Kleenex Pocket Packs
I believe in taking everyday as an adventure and you should be ready to face it. You never know when the next great idea will strike. To insure you get it down, I like to keep a sketch book and iPad handy. Pencil & paper sketches are always great, sometimes you need just a little more and apps like Paper give you the full artist toolbox in one little tablet. When the time comes to design your next great website, being able to pop on your headphones, bust open the macbook and work from anywhere helps keep you mind fresh. The other items are used in my day to day or anyones really, giving you the tools to tackle the many tasks your day will throw your way.
Sign up for a free website audit
and learn how to make your site more effective with my monthly newsletter
Inside you will receive advice to improve your digital strategy, evolve your web presence and meet the needs of your connected customers.