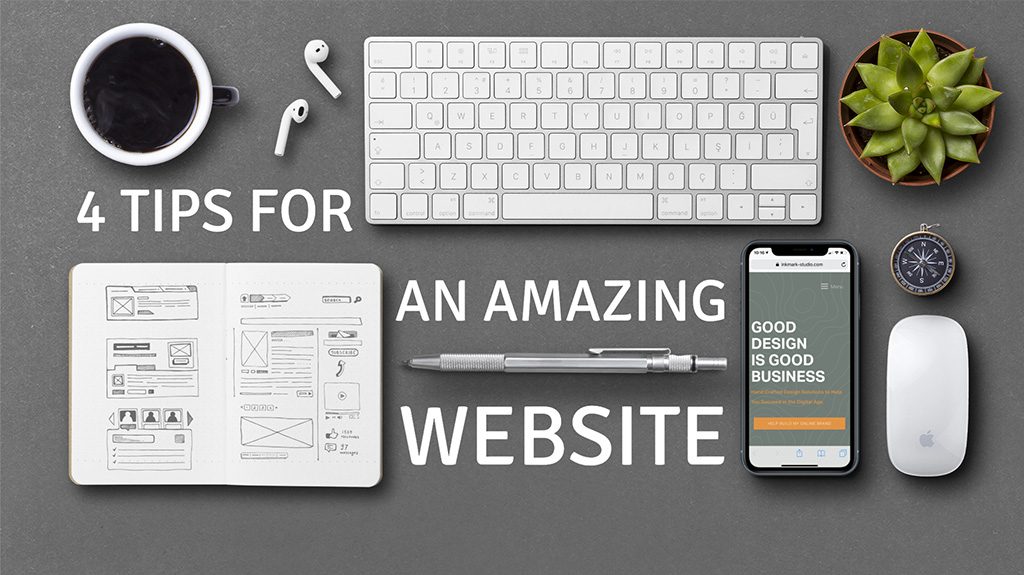 Remember the last time you were looking for something and hit a website that was so bad you could not hit the back button fast enough? Nothing is worse than needing something, searching online, and not being able to find or trust the answers. Then, like magic, you hit a site, and all your questions are answered, you feel confident in the information and your choice. Let me let you in on a little secret your customers are the same. They want to like and trust your product or service. How can we help them if they have never heard of you? Good design, more precisely good website design.
Purpose
So, What makes a Good Website? It grabs your attention and evokes emotions that make you like and trust the site. It's easy to use with a clear call to actions, crisp copy, and beautiful visuals. You may be wondering, How can you make your website outstanding? Here are four key aspects to keep in mind for your website.
If you want to sell more products and services, generate leads, or build your brand through your website, then each page of your website should have a clear purpose. Before putting any random thing on your website, ask yourself, what do you want your customer to look for on your website? Is it information, merchandise, or entertainment?
If your website is purely to entertain visitors, think about sharing fun, personal stories, or anecdotes. Funny pictures or memes do well, videos that highlight your quirky personality, or that podcast you're really into.
Meanwhile, if your website is to inform, then the users will expect to learn something new or have a greater understanding of the topic after. In that case, your website should have a strong knowledge base, tips & tricks, "how-to," DIY videos, 'FAQs' etc. You can take advantage of live chat to help your customers with precise questions.
Visually appealing
Additionally, your eCommerce website, along with a beautiful layout, will need high-quality pictures of the product and the lifestyle it brings. Engaging copy with clear information about the benefits of your product and services, social proof from past customers who LOVE your product and finish it all off with a seamless checkout process.
An eye-catchy website goes a long way when it comes to increasing visitors. If you have a dull and cluttered website, it can give the message that your product or service might not be as good or outdated. Even worse that you don't care about providing the best for your customers. This is where your visuals, i.e., photos, text, ux elements define the hierarchy of your page, guiding users to your goal for the site site.
For the photos on your site, the best option is to have custom photography done. If that's not in your budget, you can also use high-quality pictures from stock sites like Shutterstock and free sites such as Unsplash. These websites are a great option, but you have to find the right photos. Photos that look natural, not overly "stock" use pictures that are relevant to the content. A bonus trip try to stick to moderate-size images, around 500kb are ideal, large images can slow down your website and cause your user to look elsewhere.
Also, think about how the text is interacting with your photos. Do they need to support each other, or do they guide you to the next step? Try to limit the number of fonts to 3 and prefer using the standard font families as it will help your website to format correctly on more browsers.
Don't forget about the whitespace so that your website looks clean and tidy. This does not mean you need literal white space, but areas in your layout that are not fighting for your attention. These paces give your eyes time to rest and digest the information they are consuming.
Clear Content
There is one cardinal rule of content writing that you should always follow: clear communication. When your visitors enter your website, within a couple of minutes, they should have a clear idea about your brand and what does it offer. Long paragraphs with irrelevant information will bring down your content quality as well as website traffic.
Your website copy should be super clear on who will benefit the most from your product or services or what benefit it creates for your clients.
Easy Navigation
Does each page on your site have a clear next step? In other words, does each page have a clear call to action on the page? Do you want your customers to call you, email, buy something, or simply sign up for a newsletter? The content of the page, along with ux copy, should leave no question on what they should do.
A website with good navigation makes it easy for visitors to scroll and take action. Even if you have a beautiful website, it won't make a difference if your customers are not able to find the information they are looking for. Even worse if they get confused while making the purchase and abandon their cart.
Your users should be able to find the required information within three clicks. In fact, it's a good idea to stick to the F-shaped pattern rule. Simply put, your most important information should be put on the top, and the left of the screen as this is where people's attention goes first. The right side of the screen is hardly noticed, so try not to put any vital information, buttons or CTAs there.
Final Words
To sum it up, your website can be your business card or your entire business. It's not only useful for a customer but also reflects you as a business owner. You are more often than not, creating your first impression with your website, and people will judge your brand's worth based on Design and experience. Thus, it should represent everything you want your brand to communicate to potential clients. Follow these web design best practices for fantastic website experience.
Sign up for a free website audit
and learn how to make your site more effective with my monthly newsletter
Inside you will receive advice to improve your digital strategy, evolve your web presence and meet the needs of your connected customers.